Working from home can be amazing; there's no commute involved, you have got a better work-life balance, and you also get to design your office however you want (it's your space, after all). Here's some advice on how to turn your bland, cold home office into a place you'd love spending time in:
1. Don't Follow Everything on the Internet
Let's start with the basics: use the internet do draw inspiration but do see if what you're investing in is feasible. For example, dining room chairs look amazing but they're terrible at supporting your back, or tiny wooden desks with their cool, vintage vibes, won't be enough for all your files. And that bright colour that seems so attractive? Well, it might end up distracting you later if it's painted right above your wall. To have the maximum productivity levels, you've got to keep the external noise down.
2. The Fundamental Rules
No matter what, your computer screen needs to be at eye level. This position doesn't strain your eyes and lowers down eye fatigue. Your arms should be parallel to the floor when working on the keyboard, and your feet need to rest on something (floor or a footrest). Go all out on buying a chair that makes you want to sit and work, even if it's a bit costly.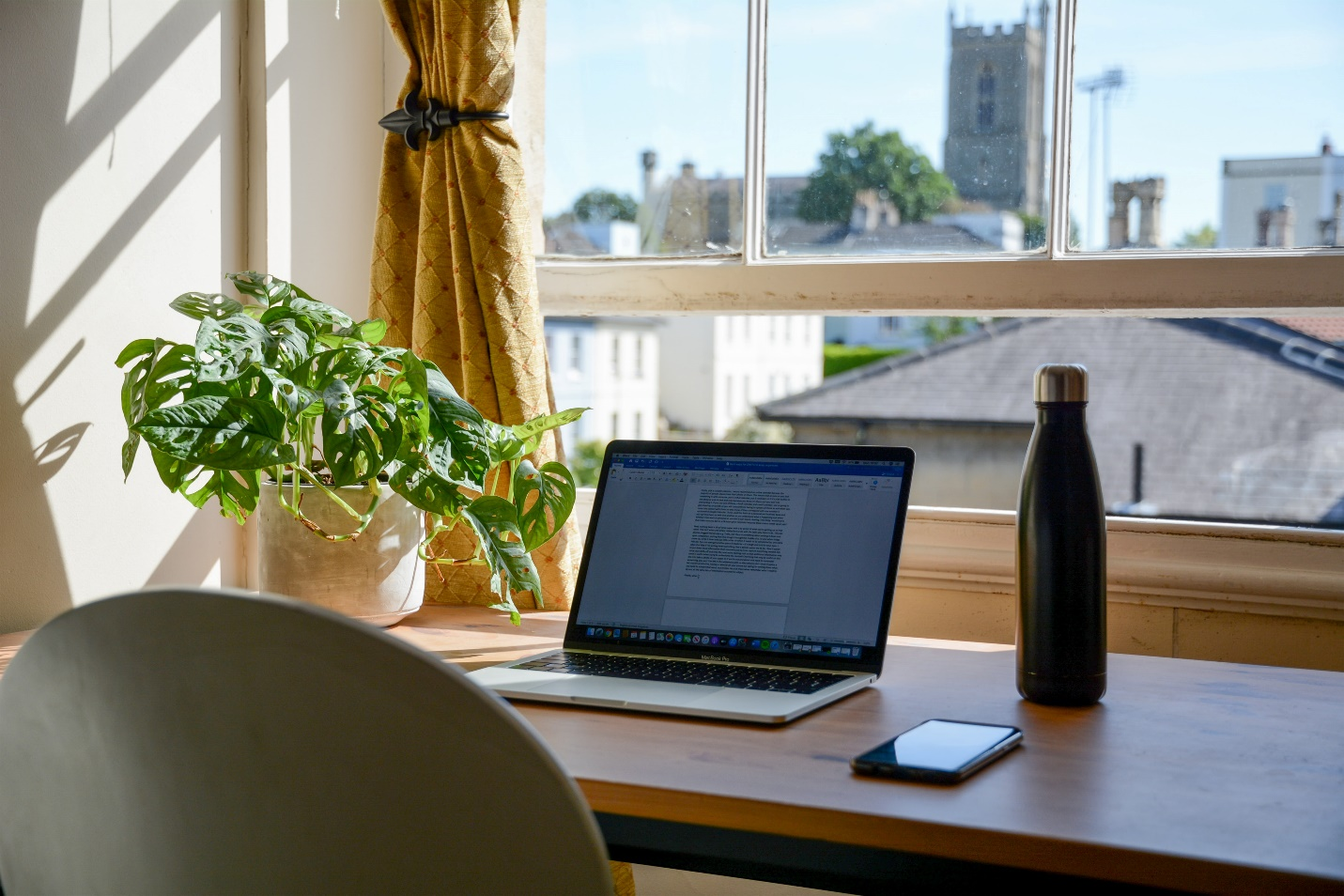 3. Let There Be Light
This can't be stressed enough: don't put your desk against the darkest part of the room. You don't want a cubicle! Move your desk towards the windows, or somewhere near them, to get the benefit of natural light. It'll give your eyes a break from all the screen-time.
At the same time, don't forget to put in a table lamp, something that has a soft glow and can lighten up your space as the day passes and gets darker.
4. Add in Some Greenery
Plants have a positive effect on people's moods. Add in a few succulents or indoor plants, and let your room get some pop of green that'll instantly relax you. You can also put a small potted plant on your desk just to have some green near your eyes.
5. Personalize the Space
Add in things that mean something to you and echo your style and your taste. Some photographs, or a nice art piece. Anything that makes you happy. What about things you don't like as much? Put them away.
Add in some bookcases to store in your paperwork, preferably big ones to add in everything you need there, and also have enough space to add in some décor pieces in them.
6. Comfy It Up
Since you're already working from home, how about make it a place you can think or read in as well? Add in a comfy chair to relax or read in, an ottoman to keep your legs on, and a coffee table with a lamp.
Do you want to redo your office space and make it come alive? Hire us for the perfect office look that resonates with you and makes you maximize your productivity. At Ranauta Interiors, we specialize in modern designer furniture including bespoke bedroom furniture and wardrobes in Kensington, Harrow, and Watford.
Contact us now for a complete list of our services.
https://ranautainteriors.co.uk/wp-content/uploads/2021/08/A-Home-Office.png
954
1431
DevlopIndervir
https://ranautainteriors.co.uk/wp-content/uploads/2020/09/Ranauta_Interirors.png
DevlopIndervir
2021-08-17 07:53:11
2021-08-17 07:54:20
6 Home Office Ideas: Making a Space You'll Want to Work In